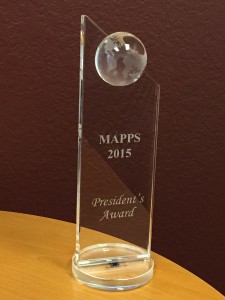 Jeff Lower, (PAR, LLC) MAPPS President, recognized the contributors, including Aerial Services' President & CEO, Mike Tully. Mike was awarded the "President's Award" for his six years of service on the MAPPS Board of Directors.
The Management Association for Private Photogrammetric Surveyors (MAPPS), the national association for private sector geospatial firms, recognized a number of individuals for significant contributions to the association and the profession at the Association's recent annual conference in Sun River, Idaho.
"It is was my honor and to my benefit to serve this great organization … an organization that tirelessly advocates for the remote sensing and mapping firms in the US." explained Mr. Tully. "MAPPS is comprised of some of the most dedicated, forward thinking businesses in America. The competitive advantages bestowed to member firms are significant. MAPPS fosters excellent networking, collaboration among competitive peers, professional educational opportunities, and some of the best advocacy on Capitol Hill available to small businesses."
Mr. Tully continues to work on behalf of MAPPS as the Program Chair and assists with the planning and development of programs for annual member meetings. Learn more about MAPPS and the next Winter Conference in Las Vegas, NV this winter at MAPPS.org.