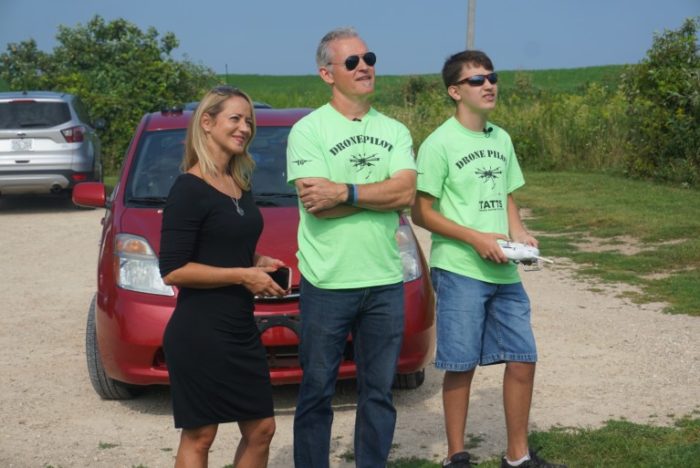 Paul Braun | TATTS Founder
We encourage professionals of the geospatial community to let us know about your unique career or any projects you are working on or how you are using geospatial technology to create a difference.
The world is a beautiful place.  Especially with a view from up here.
Meet Paul Braun.  Braun is a geographer from Wisconsin who was recently honored with the Jefferson award for his volunteer efforts.  Efforts, which are near and dear to his heart.  You see, Braun's 14-year-old son, Mitchell Braun, is on the Autism spectrum.  But the father and son have an incredible bond that's been strengthened is a unique way.
Four years ago, while Braun was using his UAV to produce maps for a client, he had a realization – the drones he was using for mapping could be used to give kids on the Autism spectrum a different perspective of the world.
Braun says, "People on the Autism spectrum are visual learners and visual thinkers."
So, he decided to start the non-profit Taking Autism to the Sky known as TATTS.
Drones are used to teach social skills like how to help youngsters on the Autism spectrum how to engage and become folks that can hold down jobs and become independent.
Braun teaches them the terminology and the basis of flying and says "they cover what yaw and pitch and roll and all the mechanics of flight.  In addition, they learn how to use the technology and tools that are apart of the UAV system."
They test their pilot skills, flying the drone then they edit the video captured by the drone to create their very own videos.
Braun says "It provides self-esteem and confidence as well as an awareness that I can do stuff, I can do something unique and that's what parents want for any child.
For dozens on the autism spectrum of all ages TATTS has been life changing.
One mother told Braun a couple of seasons ago, "my daughter hasn't spoken a word in days and once we put her on the stick and she flew the drone I was completely flabbergasted.  She just changed.  She was talking to other kids by the end of the day.  I was in tears."
Paul has been so successful in his mission that TATTS has grabbed attention around the world.
Braun said "I have inquiries globally of people asking for TATTS in a box.  I would love to be able to put that together, so you get the box with the drone, the curriculum and how-to instructions.
Braun goes on to say "it's alright to be different, it's just a matter of refining skill sets so that young folks and adults on the spectrum can play a viable role in a community.
Paul holds his flight sessions 8 times per year with the help of some volunteers.
If you would like to learn more about Paul's efforts with TATTS click here
Video and story credits go to WKNOW 27 ABC news out of Madison, WI.  Visit WKNOW 27