Recently, the Aerial Services' IT team finished up a necessary system upgrade. This upgrade allows the Aerial Services' network to move at a higher speed which in turn will provide services to our clients more efficiently and effectively.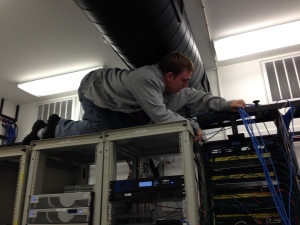 Our system was upgraded from a 1 Gbps network to a 10 Gbps network and new online storage was added which makes it 10x's faster than our previous system! Gbps stands for Gigabits per second  and is sometimes abbreviated Gb/s. It is a data transfer rate equivalent to one billion bits, or simple binary units, per second. These extremely high-speed rates of data transfer are not currently common, but research projects have pushed computing capability toward the Gbps range for some technologies.
Our upgrade would not have been possible if it wasn't for our intelligent, dedicated IT team. Thank you Robert 'Spuds' Holloway and Dave Swallow for keeping Aerial Services inline with the rapidly changing technology!