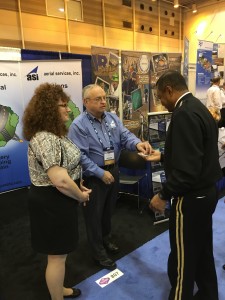 Last week, Aerial Services' Geospatial Solutions Managers participated in the Society of American Military Engineers Small Business Conference. Our booth was selected as one of only a few that the Lt. Gen. Thomas P. "Tom" Bostick, P.E. of the USACE came to visit!
Lt. Gen. Tom Bostick became the 53rd U.S. Army Chief of Engineers and Commanding General of the U.S. Army Corps of Engineers in May 2012. His responsibilities include the supervision of more than 33,000 civilian employees and 700 military personnel who provide project management, construction support and engineering expertise in more than 130 counties. He also is responsible for USACE missions including environmental protection projects; the regulatory permit program to protect, restore, and enhance wetlands; and emergency response to support FEMA in restoration and repair after a disaster (short biography provided by SAME).
Aerial Services is humbled to have met such a prominent and accomplished person. Thank you Lt. Gen. Bostick for taking the time to stop by to visit with us!