A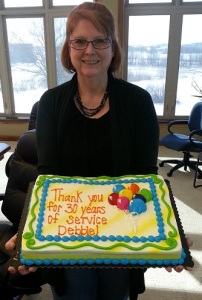 erial Services would like to extend our sincere appreciation and say congratulations to one of our employees, Debbie Allee-Ziemer! Deb recently hit a huge milestone of 30 years of service with Aerial Services!
Deb is a dedicated, reliable employee who is determined to assist Aerial Services with reaching our goals and providing our clients with the finest service possible. Her position as a Program Management Officer requires her to be responsible for the success of a project from contract award to the final deliverable. She also works as an Aerial Imagery Quality Control Specialist, coordinates and writes technical proposals, and serves as a government liaison. "The photogrammetric industry is always changing, especially with the introduction of digital imagery sensors, new software programs, LiDAR, and UAVs. I am proud to be a part of a company that strives to stay current with the technology and advancements in our field."
Deb has an extensive amount of knowledge involving geospatial solutions and has been around the business since she was a young child. "Although, I didn't officially join the Aerial Services family until 1984, my relationship by association began when I was 12. My father, Paul Allee, was one of the original founders. I remember hanging at the office when there were only 2 employees, 1 stereo plotter, and 1 airplane/camera. The darkroom was located in a small room behind a black curtain. Occasionally, I helped develop the contact prints one by one, swishing a  paper into some liquid making the image magically appear and then hanging them on a makeshift line to dry."
Walter Ertz, Vice President of Geospatial Solutions at Aerial Services, who has worked with Deb for years shares, "In my 30 years working with Deb, I have found that she always puts the company first. She has been and still is dedicated to providing the best services she has to offer for the company. Little known fact: In Deb's younger days, she played quite a bit of softball and her team's trophies used to sit on top of the refrigerator at the old building." 
From all of us at Aerial Services, Thank you Deb for your commitment and continued service to Aerial Services!
My daughter may have said it best (of course she may be biased); "…well deserved award… You are the hardest working women I know. Good job, grandpa would be proud of you and all you have done for ASI." – Deb Allee-Ziemer
Please help us congratulate Deb for reaching this outstanding milestone by leaving a comment below or on social media!