Someone once said: "Better to be approximately relevant rather than precisely irrelevant." As we see commercial UAS exemptions dripping out of our Federal leviathan bureaucracy, actual remote sensing and mapping applications in the U.S. may become more common. If true, then practitioners (experienced and not) using these new technologies need reminding of some basic truths. Small UAVs are an entirely new platform for remote sensing and mapping. The aircraft, sensors, and software differ substantially from the manned systems used for decades. The techniques used to provide information from remotely sensed data are changing too. The practitioners who hope to apply these tools to this art and science, the foundational principles of remote sensing and mapping remain unchanged and must be understood to fully exploit these tools and create meaningful deliverables.
That said, this author is a remote sensing "professional" and I am describing the application of a transformative technology by innovators. "Professionals" engaged with the "old order" of doing things are often blinded to seeing "the new way". Therefore, myself and the reader are cautioned to take heart the old proverb: The ark was built by amateurs, but professionals built the Titanic.
Acquisition
WIND
Many of the sUAS weigh under 10 pounds. Excessive movement of the sensor causes blur in the imagery and maybe holes in the coverage of an area. 15-20 mph winds are a lot. How stable is the aircraft in winds? Are the sensors "stabilized" so atmospheric forces are minimized? There are many applications that will require stabilization in both two and three dimensions. Stabilization can be active and passive. Know what you are getting.
TIME & SPACE
It takes time to remotely sense a piece of the planet. Most of the time the project area is distant from our office and travel to the site is required. We call these "small UAS" for a reason. They are tiny and slow. Their sensor footprints from 400' above ground are quite small. It will take considerable time to capture the entire area. How much area can I cover per hour? How long will it take? What are my contingencies if I can't capture the area once I get there because of wind or weather or malfunction?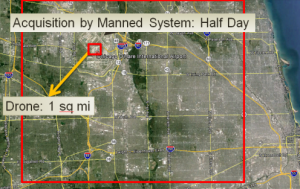 For perspective consider that using manned aircraft today, we can easily photograph 250 square miles in half a day at 6" GSD. Using a small UAS like the SenseFly Ebee we might be able to acquire 1 square mile in the same time. There are economies of scale here that practitioners need to carefully consider. That said, drones have their advantages here. Manned systems can't typically get 1″ resolution from the air. Manned systems require licensed pilots with specialized skills, expensive aircraft and camera systems to fly. Matching this new tool to the right application is key.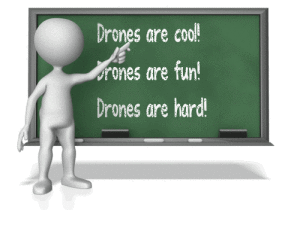 TRAINING
Without sufficient preparation and training crews will struggle to be effective. Are your pilots and observers trained? Are you carrying all the needed components (drones, computers, batteries, cables) and spares (drones, computers, batteries, cables)? What are the criteria for deciding whether to deploy a crew given certain weather expectations?
POWER
Manned systems can run for 6 hours or so. Today's sUAS typically run on battery for 30 minutes or so (less on a windy day). Many sUAS can remotely sense 100 acres per battery. Recharging batteries in the field is slow. Do you have 3-4 fully charged batteries in the field? Do you need a gas-engine drone?
GROUND CONTROL
There are requirements for "good enough" and then there are requirements that need a prescribed level of positional accuracy. What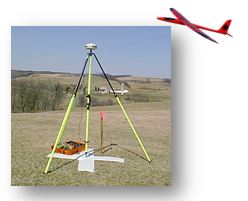 is needed? How many ground control points are required to achieve the specified accuracy? Why does this matter? What is the intended use of the deliverables? Many new drone users know nothing about "ground control". This [and positional accuracy] are a couple concepts that can be ignored only at your own peril.
CAMERAS & IMAGERY
There are a number of important considerations when it comes to cameras and the resultant imagery derived from them. For example: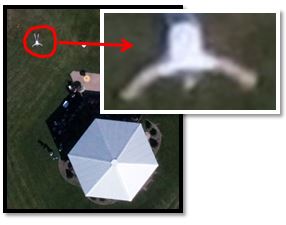 Metric: What is a "metric" camera? Are these important for my application? What are the "costs" associated with using a non-metric camera? What effects will this have on the quality and accuracy of the resulting imagery?
Resolution: How big are the pixels from a given altitude (ground sample distance – GSD)?
Dynamic Range: Good resolution is often negated by poor dynamic range. Dynamic range is a measure of the camera's sensitivity to light (higher is better). Look at the images to the right. The image acquired had very high resolution (approximately 1" GSD). But when you zoom into the man lying in the grass, the details of his head can't be discerned and the reality that he has a head is almost unclear. How can this be with 1" GSD? This is mostly due to poor dynamic range.