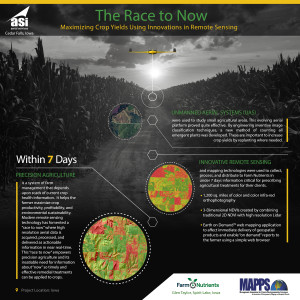 After a few weeks of brainstorming, reviews and edits of rough drafts, and plenty of caffeine, our creative and motivated marketers created a poster to describe a remote sensing project that ASI worked on with Farm Nutrients. This poster was entered into the MAPPS Geospatial Products and Services Excellence Awards competition for projects of 2015.
Aerial Services' poster came away as the winner in the Remote Sensing category, but this opportunity was about much more than just creating a poster. The project completed by Farm Nutrients and Aerial Services helped farmers maximize crop yields by using innovations in remote sensing. These incredible remote sensing techniques do not only help the farmers, but also bring benefits to environmental health, crop health, and human health.
Normalized Difference Vegetation Indices (NDVIs) are indices of plant "greenness" or photosynthetic activity that shows farmers where there is damaged land unsuitable for growing healthy crops. Agricultural information of growing crops is very valuable when current. Because the crops are rapidly growing and weather patterns are in flux, remote sensing information must be distilled then acted upon by the farmer in near real time. Orthophotography and detailed crop health assessments (NDVI) from Aerial Services had to get into the farmers hands within 7 days or its utility to affect yield would be diminished. We delivered in 6. 
Mike Tully accepted the award on behalf of Aerial Services and Farm Nutrients at the MAPPS Winter Conference last week in Nevada. We are thrilled to have won the award and would like to thank Farm Nutrients and MAPPS for giving us the opportunity to share this project.