Aerial Services is pleased to announce that our very own Adam Campbell has become a Certified Mapping Scientist, LiDAR through ASPRS! As of March 28th, 2016, Adam Campbell completed his peer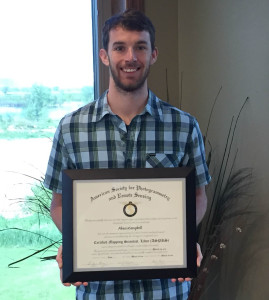 review and passed the exam to become the 6th person to receive the CMS-Lidar designation!"
A Lidar Mapping Scientist is a professional involved in lidar systems design and/or systems application of data acquisition and computer programs that allow for the utilization of spatially referenced lidar point clouds for solving user needs and analysis requirements. They are responsible for the management and supervision leading to the integration of data needs and the development of correspondence between and the utilization of various spatial systems of often-different generic origins that are used to solve requirements. The ASPRS Certification Program is fully accredited by the Council of Scientific and Engineering Specialty Boards (CESB). More information about the certification is found here.
Adam has been working with Aerial Services for the past 8 years and has been an enormous asset to the company. He also received his Geographic Information System Professional (GISP) certification in April of 2015. Adam is consistently finding opportunities to further his experience and education within his career field. Aerial Services appreciates all the hard work and dedication Adam puts into the company.
Please help us congratulate Adam on this outstanding accomplishment by commenting below!