Utility engineers need high quality and up-to-date mapping of feature conditions to inform corridor design work, and Aerial Services has the niche expertise to provide this data quickly. In 2021, Aerial Services bought Aerial Mapping Solutions, a leader in providing utility engineers with the CADD and GIS inputs needed to move a project through design.
Led by telecommunications mapping industry veteran Randy Lindner, Aerial Services' analysts quickly source available high-resolution imagery (or acquire new data) and compile as-built condition drawings to be used during the design engineering phase. Deliverables are made in CADD as well as various GIS formats as requested.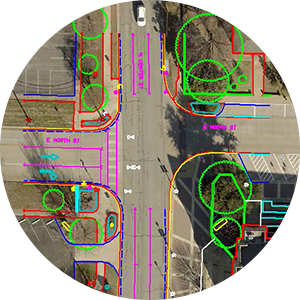 Basemaps for Telecom and Other Corridor Engineering Applications
Existing surface features mapped with high accuracy
Asset features mapped include dimensions, locations, categories, and more—highly reusable data
CADD deliverables include symbology and layering of land features for use in GIS platforms
Cartographic experience lends to outputs that add to the aesthetic appeal of engineered drawings
Common Telecom/Utility Mapping Services
From a few thousand feet to a few hundred miles, ASI provides mapping of existing features for corridor projects of all lengths and widths that meet the specifications clients are used to seeing. Mapped features are easy to work with: linear features have a distinct layer for identification and  point features feature client-specific symbology and layer coding.
ASI produces detailed drawings of specific sites, such as the location of a microcell tower.  Linear and point features are collected to provide more specific feature information for easy field identification.
ASI produces mapping data for specific address locations such as a place of business. Features include as-built drawings showing existing infrastructure , node locations to any existing backbone, etc.
Fiber Optic Network Mapping
Urban Development Planning
Water/ Waste Water Utilities