Perspective by Adam Damon, Mapping Technician at Aerial Services. 
The FAA was given a deadline by Congress to allow Unmanned Aerial Vehicles (UAVs) to fly commercially by September 2015. However, the Inspector General released an audit stating they doubt the FAA will meet the deadline. This puts the U.S. behind in crop research and food production, compared to where it could be UAVs could be used commercially. (Hollis) The FAA has voiced their doubt in regard to meeting the September 2015 deadline set by Congress. R.J. Karney, rural development specialist for American Farm Bureau, says this doubt is due to the department's lack of funding and staff (Hollis). So essentially, the technology is proceeding at a quicker pace than the rules and regulations are being passed (or even created) to support it (Hollis).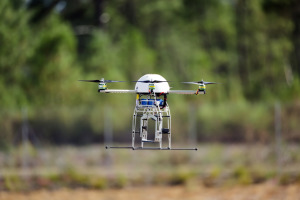 Farmers are expected to manage in a sustainable and efficient manner. The UAVs and the accompanying technologies provide the capabilities to support that expectation. "At this time, farmers are not able to fly a UAV over their crop fields or pastureland to capture pictures or video of anything they plan to sell commercially," says John Fulton, Auburn University Extension precision agriculture specialist (Hollis).
For commercial UAV flight to be legal, the FAA must create the new guidelines or Congress must dictate an alternative course. By not creating these new guidelines and enabling commercial UAV use, there is simply a restriction on the research and collection of available data that is ready to be used in order to provide a more efficient and sustainable agriculture process.
It is important that UAVs do not compromise safety (collisions with manned aircraft or causing injury on the ground).  Japan has been safely using UAVs commercially since the late 1980's. Japan demonstrates that safety concerns can be mitigated and the full benefit of UAVs realized. Safety concerns then may not be the core reason the FAA has been slow to integrate UAV into the national airspace. Perhaps the regulatory morass is more the result of the FAA's lack of resources to implement the integration plan. If so, then this issue goes beyond any simple explanation and it's anyone's guess when commercial use will be allowed (Hollis). If the commercial UAV market in the U.S. is stymied due to lack of funding or staff in the FAA and not because of safety or privacy concerns, then the core issue is underlying and really goes beyond UAVs (Paul).
References    
Hollis, P. (2014, August 10). FAA drone ruling said to be setback for farmers, research. Retrieved from http://southeastfarmpress.com/equipment/faa-drone-ruling-said-be-setback-farmers-research?page=1
Paul, R. (2014, November 16). UAVs and Precision Agriculture #16 [Blog post]. Retrieved from http://www.aerialfarmer.blogspot.com/