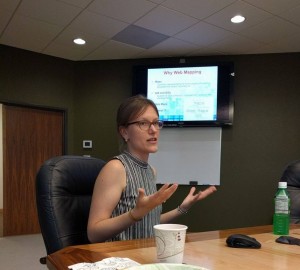 Last week, Aerial Services hosted one of the Cedar Valley Developers Group monthly meetings where our Application Developer & Cartographer, Anna Pestereva gave a presentation about web mapping. See the overview of the presentation below and download the PDF by clicking here:
What do Pokémon Go, self-driving cars and election maps have in common besides being on the news a lot this year? They all would not be possible without real- or near real-time geospatial data and consistently improving mapping technology to take advantage of it, whether it is web, mobile, or IoT. With a GPS sensor and mini-computer in our pockets, we all constantly use, create and share location information.  A whole generation that grew up in the digital and connected world now relies on it as given. What are the options to incorporate your own or public spatial data, services and features into your applications, and go beyond a standard Google maps embed?
We will review exciting modern web mapping tools, standards and trends with special focus on open source software and data, supported by a few applications examples, some which were created at ASI. I will discuss how the worlds of mapping and geospatial analysis merge today with the worlds of web design and programming and how advances in web mapping technology brought what many call the new Golden Age of Cartography.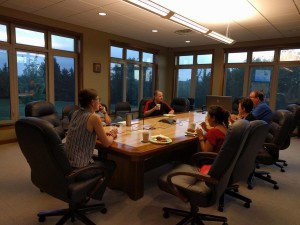 Cedar Valley Developers aka CVDev (Cedar Valley Software/App developers) is a user group for coders and application managers (previous a local chapter of INETA).
Their goal is twofold:
1) Educate its members on latest technologies and methodologies of designing and creating applications using .NET, SQL Server, IIS, SharePoint, WebAPIs, Javascripts, CSS, html, UI design, clean code, mobile and web development and many more technologies with an array of presentations geared towards developers as well as project managers, architects, and system administrators.
2) Provide an environment to foster networking with area IT professionals and students with the goal to promote IT innovation in the Cedar Valley area.
Find out more information by visiting their Facebook page: Cedar Valley Developers