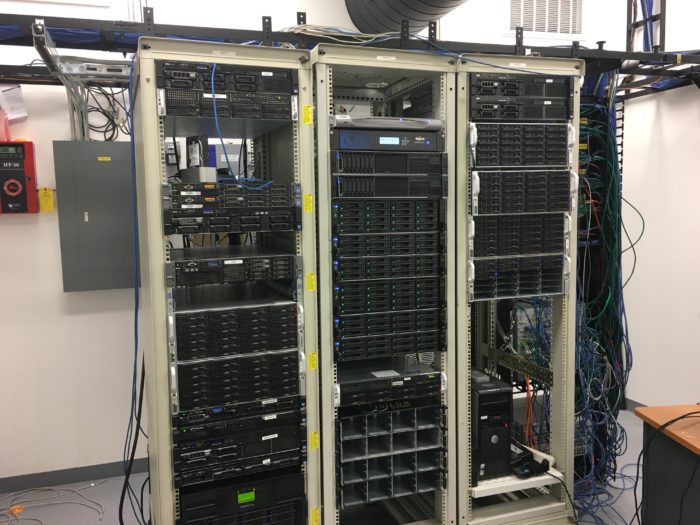 I AM IT | I Am ASI
Meet "Spuds" and Bernard.
Industry leading imagery and mapping is what our clients receive but it's the behind the scenes work which no one sees that that makes it happen.  In this "I Am ASI, We are Geospatial" feature profile we take a closer look at the mysterious IT department.
As we all know, technology continues to change the landscape of the geospatial profession.  Large data files can be easily collected by acquisition teams and transferred to production teams 500+ miles away.  Data can be accessed through a couple of clicks of the finger. How does this happen? How can massive datasets be sent quickly, accurately, and most important, securely?
Aerial Service's (ASI) clients can rest assured, we have a team of the best network and web developers in the industry to keep your data safe and secure and delivered to you on time and with high accuracy.  Meet the behind the scenes team that makes it all happen.
"Spuds" is the IT Manager at ASI and is tasked with continuously improving and maintaining our high-performance production platform, regularly enhancing our security, and implementing new technologies to keep our customers data secure and our production teams online.  "Spuds" has 3 masters degrees in Science from the University of Missouri (you read that right – 3!) and is a self-taught IT guru.  During his time with ASI he has had several long-lasting improvements that has helped the company keep up with new technologies and remain a leader in the industry.  Now, we could list them all but we know you are busy so we can just talk about a few.  Like the time he migrated our Earth On Demand (ASI's geospatial streaming service) from a data center to AWS servers in under a month, giving ASI greater control over our capacity output, strengthening the authorization process, and making the Earth On Demand service infinitely scaleable to meet the future demands of our customers.
Or the time when he reduced the frame load time for a 500 megabyte file from 30 seconds to 3 seconds.
"Spuds" said "there are big challenges in moving massive amounts of data from one place to another, and we have invested heavily in our storage platform (running on Synology gear) so production has multiple paths to data and the failure of one storage array does not mean downtime in our environment.  10 Gigabit connections to the desktop ensure that data is available quickly, since minutes count in production. We simply cannot wait 30 seconds for a 500 megabyte frame to load into the software– we have reduced this time to less than 3 seconds in many cases."
Meet Bernard
Bernard is our Web Application Developer responsible to create and maintain all of our web applications (that he built).  Bernard came to ASI 3 years ago with a Bachelor degree in Geospatial Information Science.  Not to be outdone by "Spuds", Bernard has also made several key enhancements for ASI.
Shortly after Bernard was hired, he was tasked with overhauling our internal production workflow application which allows everyone in the company to be able to view the details on any past or present project.  It allows flight teams to see the flight lines and develop a better understanding of what the data will be used for.  It allows production and management teams to have a real time update on the progress of acquisition down to the flight line, weather conditions for your AOI and several other features that help streamline the logistics of every ASI project.
Bernard also created a project workflow application for our yearly NRI & SLI contract which our acquisition and production teams use to ensure project deadlines are being met.
In addition to the applications created, he has also saved the production team hours by taking repetitive tasks and automating them such as fetching LAS files from the server or metadata calculations.  "Any method of reducing the time or redundancy of production is a benefit to our company as well as our clients." Some of these processes were incorporated into web applications to make the process even more streamlined.  Some of these processes were incorporated into web applications to make the process even more streamlined" Bernard said.
He went on to say "Geospatial data plays a pivotal role within our company so our applications must reference those as well. Integrating geospatial data into an application's workflow doesn't always mean just rendering a map on the page. Spatial queries, geocoding, sun angle calculations, and distance measurements are some examples of background tasks that users are probably not aware of. Other times the requirement might just be to render data on a map for users to query and edit."
When asked what do you like most about working at Aerial Services Spuds said "Our technology is extremely important to our company and I am proud to work for ASI because their investment in technology is second to none.  We are ready to meet the challenges of moving massive amounts of data around our infrastructure with little to zero downtime each month."
This team truly goes above and beyond to streamline logistics, secure your data, and ensure Aerial Services has the bandwidth to conquer any project.  We are grateful for all they do.
Be sure to submit the story of your unique career (or someone else's), ground-breaking projects, or stories of how you are using geospatial technology to make a difference.  You could win and be featured in next month's campaign!