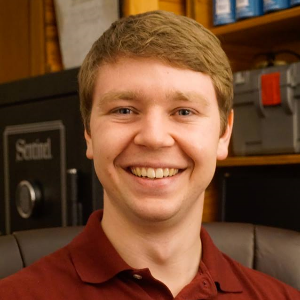 Nathan Eick
Geospatial Specialist | Aerial Services, Inc.
It's a bird, it's a plane, it's probably….Nathan Eick.
Meet Nathan, Aerial Services' Geospatial Specialist.
As Geospatial specialist some of Nathan's responsibilities include preflight planning, fixed-wing and UAS collection, post flight processing and has assisted with maintenance.  He is also well versed in several different LiDAR, imagery, and video collection equipment and methods.
Recently, he received his commercial pilot license in April of 2019 and became Pix4D fundamentals certification in 2018.  He also holds his FAA Remote Pilot Unmanned Aircraft System license.
So you can see why he has the title "Specialist".
His story started with ASI many years ago through an aircraft rental on his way to earning his Private Pilot certificate in 2013.  After his primary instructor left for a new job out-of-state, an ASI pilot graciously finished Nathan's training with him.
Tower inspection content collected and processed by Nathan Eick.
After receiving a BS in Mechanical Engineering from Iowa State University, Nathan returned to Cedar Falls, IA seeking a manufacturing job close to home.  Being the student loan burdened college graduate he was, he put on his entrepreneur hat on and searched for ways to bring his hobbies (Drones and UAS) and his Engineering education together.  As a side job, he began flying drones to scan his family farm fields.  He quickly became fascinated by the way UAS allowed him to experience flight in such a cost-effective way.  Over time Nathan began building his own drones and even 3D printing some parts, allowing him more flight time between battery replacements.
This interest soon led him to found DualRC (www.dualrc.com), a small business that builds high-endurance, affordable UAS.  These hand-launched, fixed-wing, electric planes have a 3-5-hour endurance at a moderate 40mph cruise speed.  They are also able to equip a variety of different sensors. "The future of low-level ultra-resolution data collection belongs to sUAS," says Nathan, while also noting that "there are regulatory challenges that affect the market significantly today". The experience from equipment design through delivery of final mapping products gave Nathan a great understanding of the principles and science of mapping.
DualRC Elanus Duo – Ready to Fly
Nathan's passion for Aviation and knowledge of all things GIS is evident in the halls of the office and the cockpits of our planes.  He is a true example of the old saying if you like what you do, you'll never work a day in your life.  He is a valuable member of our ASI team and we're proud to have him on board (get it?).
Be sure to submit the story of your unique career (or someone else's), ground-breaking projects, or stories of how you are using geospatial technology to make a difference.  You could win and be featured in next month's campaign!