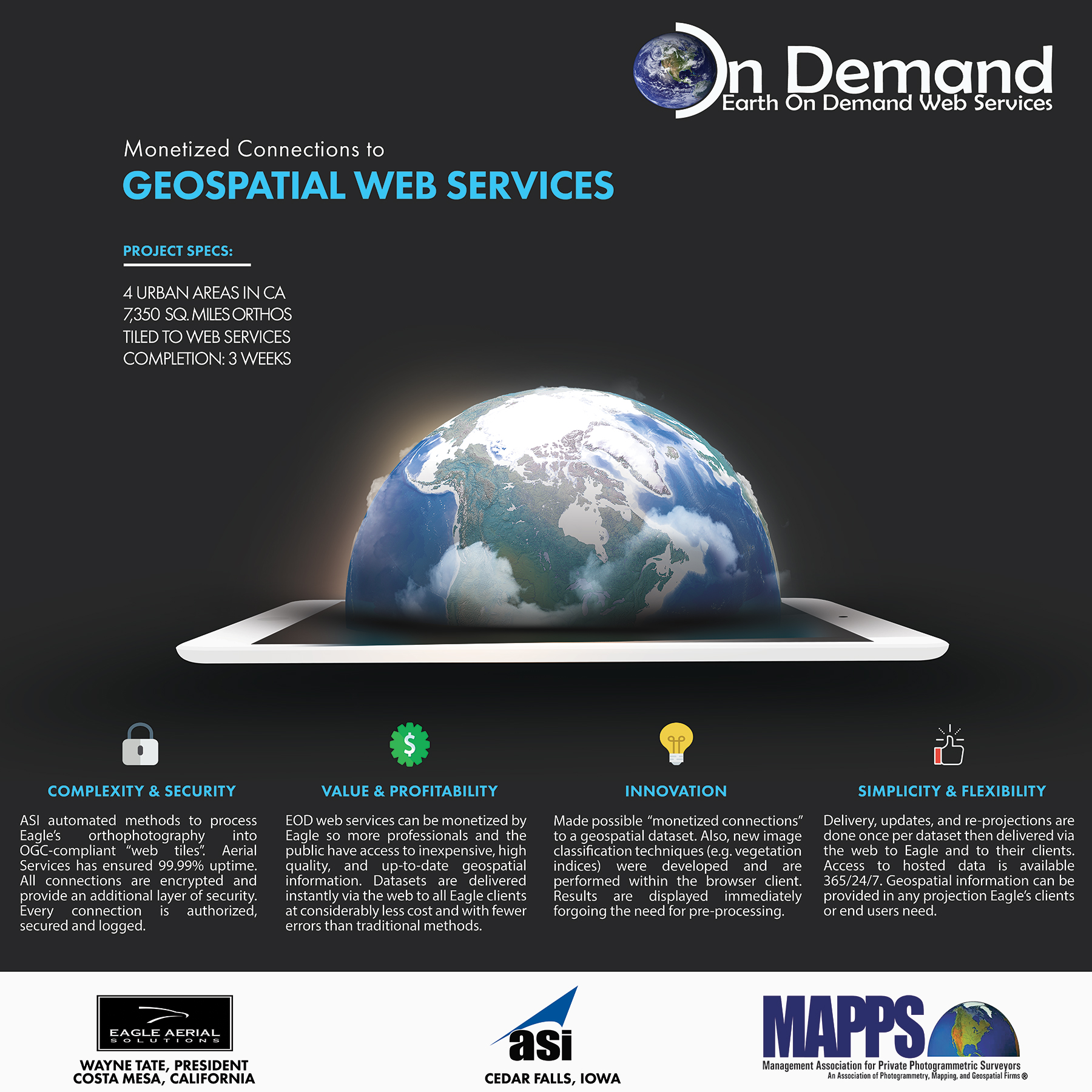 Earth On Demand™ offers complete solutions Forest Ranges Parks Precision Agriculture Viticulture Ports & Rail Industries Local State & Federal Government Agencies
Earth On Demand Web Services™ is a cloud based geospatial streaming solution that supports Open Geospatial Consortium (OGC) streaming services and is compatible with all OGC supported software and APIs.  The solution is capable of handling small to very large geospatial datasets.  Security is very robust and flexible with multiple options for authentication and authorization.  Client's only pay for what they need dependant on their service chose and storage used.  Clients are able to access our existing large geospatial warehouse or add their own data to the mix. Access to that data is controlled by the data owner and can be monetized as needed.
Why is Earth on Demand Important
Easy to integrate into your product
OGC services are supported by most geospatial software and mapping APIs.  
Affordable Online Streaming
Already have a geospatial streaming solution?  We can offset your costs by hosting your raster services to allow your solution to grow without purchasing more hardware!
Access Planet Labs imagery
Users can easily access temporal imagery based on their area of interest and frequency needs.  
Security minded
Keep unwanted users from accessing your data using a robust authentication and authorization system.  
Reseller tools
Want to sell your imagery?  We can offer tools to track and monitor your client's usage to deliver accurate reports to maximize your profits.  
Earth on Demand includes imagery captured by Planet Labs satellite constellations on daily, weekly, and monthly frequencies.  The imagery is available as visual or analytical data which is useful for a variety of image classifications.  Gain access to temporal imagery anywhere in the world.

New remote sensing and web technologies are used to capture the highest resolution orthophotography when, and as often, as you need it. All of your imagery is streamed to your device within a few days of acquisition. Simple tools are provided to draw, measure, and print your data. Perform your own analysis, markup the area, and add it to your geodatabase.